I know the one thing I am most excited about is to hug the necks of the women I have seen in pictures for the last three years. When I throw a load of laundry into my fancy washing machine, roll my eyes at having to empty the dishwasher for the second time in one day, or I have to scrub my toilets.....these women come to mind. I am quickly humbled. All the things that make my life easier are not even in the realities of the One Thread women. I want to be in their day to day, hear about their dreams, and look them in the eyes to say "you are doing such a great job. I am proud to know you. I am not the same because of you."
There have been some women with us since the very beginning of One Thread. Since YOUR first yes as a donor these women have started in school to learn a skill they knew nothing of before. They finished school and earned their Seamstress Certificate. Then they moved on to working at the Boutique which YOU helped fund into existence! And now, because of YOU, they are launching our first ever Co-Op! They are working towards being full owners of this co-op slowly in the months to come. We want you to meet them!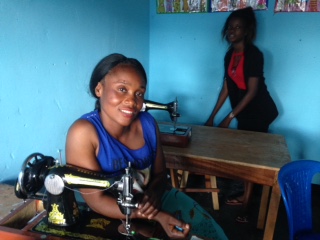 Clarisse is 35 years old and the mother of 2 boys. Both boys are in our Young Scholars program. She was in our first group of women in May 2015. She not only cares for her family, but her mother and niece. Clarisse dreams of having her own boutique!
Dorcas is 19 years old and has also been with One Thread for 3 years. That means she started her education with us when she was 16. So young and yet so very driven. She lives at home and contributes to her family. Dorcas dreams of having her own boutique one day!